Discontinuous research on Captain Beefheart and the Magic Band since June 1994.
Albums - Lyrics - Messylaneous - People - Vendors - About HPR - FAQ - Links
---
Trout Mask Replica
Lyrics and dialogue transcribed by Jonathan S. Machell.
Original liner information:
ZOOT HORN ROLLO: glass finger guitar, flute
ANTENNAE JIMMY SEMENS: steel-appendage guitar
CAPTAIN BEEFHEART: bass clarinet, tenor sax, soprano sax, vocal
THE MASCARA SNAKE: bass clarinet & vocal
ROCKETTE MORTON: bass & narration
DRUMBO: drums
CAPTAIN BEEFHEART plays tenor & soprano sax simultaneously on Ant Man Bee, simran horn & musette on Neon Meate Dream; ANTENNAE JIMMY SEMENS sing lead vocal on Pena & plays flesh horn on Ella Guru; special guest artist DOUG MOON plays guitar on China Pig;
Produced by FRANK ZAPPA
Arranged by DON VAN VLIET
Engineered by Dick Kunc
Album design: Cal Schenkel
Photography: Ed Caraeff/Cal Schenkel
Special electronic modifications on Captain Beefheart's band equipment by Dick Kunc
Most recent in a long series of contract negotiations leading to an actual signing: Neil C. Reshen
All songs written by Captain Beefheart
© 1969 Words & music copyrighted for the world by Beefheart Music Co. BMI
Added to the CD issue after the words "most recent...":
CD design and restoration: Tom Recchion
A picture of the Mascara Snake and of Zoot Horn Rollo, from the gatefold interior of Trout Mask Replica.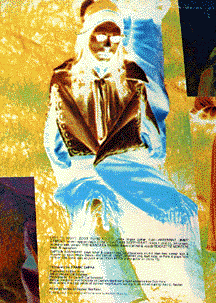 Just for fun, I made this picture below on the left from the above picture of Zoot Horn Rollo, in an attempt to return it to the original colors. Next to it is a partial scan of the back of the album.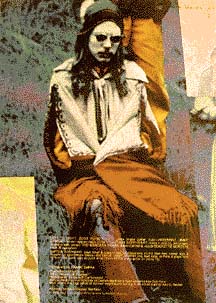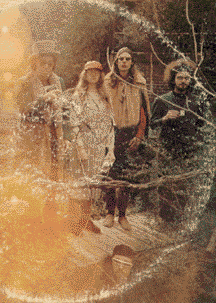 An amazing Trout band photo, credited to Ed Caraeff, which appeared in Rolling Stone # 507 in 1987. This was the "100 Best Albums of All Time" section.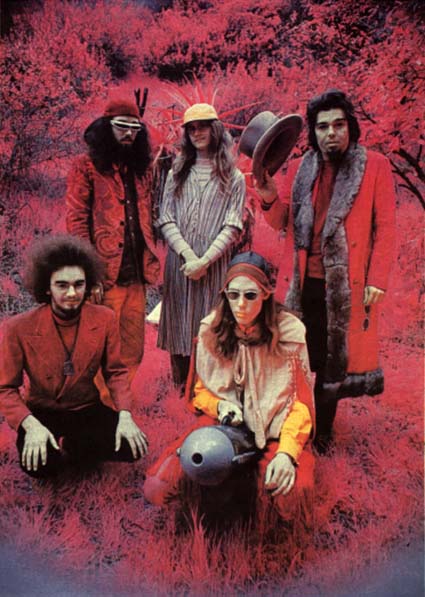 1969 UK Original on Straight STS 1053 (double) in November 1969 - no lyric sheet came with this UK issue

1975 UK Re-issue on Reprise K64026 (double) in May 1975

1975 White Label Test Pressing with with blank labels and ALLEN scratched by run-out groove and the word Beefheart hand written on original inners - no cover
1975 UK Re-issue on Reprise K64026 (double) - pretty well identical to Straight issue

1969 German Original on German Straight SMS 2222/3 (double) - has ELECTROLA GESELLSCHAFT M.B.H. KÖLN on back of cover, thick smooth distintive inner sleeve and Pink/Black/White StRaIGHt labels.

1969 US issue on Straight (Red) 2MS 2027 - Centre label has STRAIGHT RECORDS. A DIVISION OF BIZARRE INC., 5455 WILSHIRE BLVD., SUITE 1700, LOS ANGELES, 90036 around bottom edge - inner sleeve are black with StRaIGHt logo and writing in white lyric insert folds into 3 with lyrics inside, THE BOY BEEFHEART (pictured at right) on front, Manta Ray poem and drawing on back with DRAWINGS BY THE MASCARA SNAKE typed in - cover has Straight STS 1053 on spine. This is the album that the cover scan at the top of this page comes from.

197? US issue on Bizarre (Blue) 2MS2027 distributed by Reprise - no lyric sheet

1972 US Re-issue(?) on Straight/Reprise STS 1053(cover)/2MS2027(vinyl) (double) - apparently no lyric sheet.

1977 Canadian issue on Warner BROS/Reprise (TriColored) 2MS 2027 - - cover has PRINTED IN CANADA on spine and small black maple leaf logo on back upper left. Says MANUFACTURED AND DISTRIBUTED BY - WEA MUSIC OF CANADA, LTD./FABRIQUE ET DISTRIBUE PAR - WEA MUSIQUE DU CANADA, LTEE./1810 BIRCHMOUNT RD., SCARBOROUGH, ONT. A WARNER COMMUNICATIONS COMPANY ©1976,1977 Warner Bros Records Inc. Has ``fuzzy'' looking text inside gatefold like artwork was photocopied.