Discontinuous research on Captain Beefheart and the Magic Band since June 1994.
Albums - Lyrics - Messylaneous - People - Vendors - About HPR - FAQ - Links
---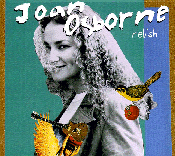 Joan Osborne
Her recent CD Relish has ex-Magic Band member Gary Lucas playing guitar on several tracks and Don Van Vliet credited in part for the third song "Right Hand Man". Here's the inside skinny on how that happened from Tanya Weiman:

(begin quote)

I'm not exactly sure how Gary ended up working with Joan, but I'm pretty sure it was from his previous work with the producer of the album (Rick Chertoff)...Gary's played on Chertoff-produced stuff before (such as Sophie B. Hawkins 1st album). But Joan really likes Gary's writing and playing--Gary was even asked to join Joan's touring band, but he turned it down to concetrate on his own stuff. DVV is Don Van Vliet, AKA Captain Beefheart, in case someone reading this came in late.

But anyway, DVV's involvement is *not* as dramatic as people have mistakenly posted on the Beefheart newsgroup (one person went into this whole spiel about Gary introducing DVV to Joan, and how Don liked Joan's cover of "Her Eyes are a Blue Million Miles"--all completely false, Gary hasn't even talked to Don is years, let alone introduce him around :-0 ).

What actually happened was, they wanted to use a sample from "Clear Spot" (as you can hear on the CD, the intro to "Right Hand Man" is a direct copy of the intro of "Clear Spot")...they (the record co.) tried to get DVV to give them permission to use the sample, and he refused...so they had someone play it verbatim and gave him partial writing credit instead.

(end quote)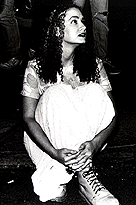 This picture found on the net.

Joan Osborne released an earlier 3 song EP titled "Blue Million Miles" on her Womanly Hips label (with a cover of the Clear Spot song "Her Eyes Are A Blue Million Miles".) She has an earlier, rare album called Soul Show, though I don't know if it has any Beefheart references on it.

Her newer CD "Early Recordings" has a good amount of live material on it, plus that version mentioned above (I think) of "Her Eyes Are A Blue Million Miles" from the studio.